A Steel-Girl Duo
Web Exclusive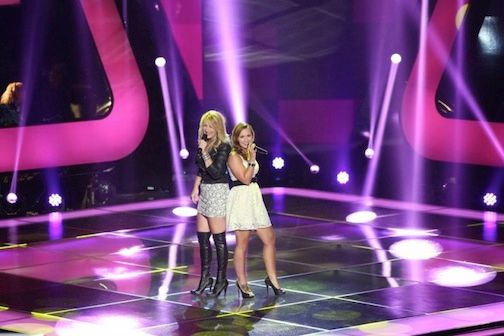 Pictured: Allison and Krystal Steel, courtesy of 2steelgirls.com
Before they belted out Carrie Underwood's "Before He Cheats" on the most recent season of The Voice, the mother-daughter country duo 2Steel Girls got their start in Wellston, Ohio.
Allison Steel and her daughter, Krystal, lived in Jackson County until 10 years ago, when they moved to the Nashville area. Before they were 2Steel Girls, they were just a regular family with a passion for music, singing in churches and at local festivals on the side.
During that time, Krystal says she would have rather played sports than spend her free time singing. It wasn't until after the Steel family relocated to the country music capital of the U.S. that Krystal, then 13 years old, realized she wanted to make it a full-time gig like her mother.
The Allison Steel Band turned into 2Steel Girls and before the two knew it, they had been invited to audition for the national television hit, The Voice. Almost the whole town of Wellston was on the edge of their seats while Allison and Krystal tried to win over judges Christina Aguilera, Cee Lo Green, Adam Levine and Blake Shelton, their chosen coach.
"We all grew up there in that small town and what they want to see is someone succeed," Krystal Steel says. "It shows that you don't have to settle for anything."
Jackson residents came together to host a viewing party at the local pub, where fans arrived with encouraging posters and high hopes. Even though the domestic duo didn't win the competition, they're still winners in Wellstonians' eyes. Krystal said the overwhelming support from their hometown has them planning several concerts in Ohio during summer 2013.
2Steel Girls is currently working on an album that will drop in April and frequently performing in the Nashville area. The two have fans as far as Norway, Krystal says, but they haven't forgotten their Southeast Ohio roots.
"We just want to say thank you to everyone who supports us, especially in Ohio," Krystal Steel says. "We could make music all day everyday, but if we didn't have that support, we wouldn't get it off the ground."
2Steel Girl's audition for "The Voice", reposted with permission