A Park In Hibernation
Web Exclusive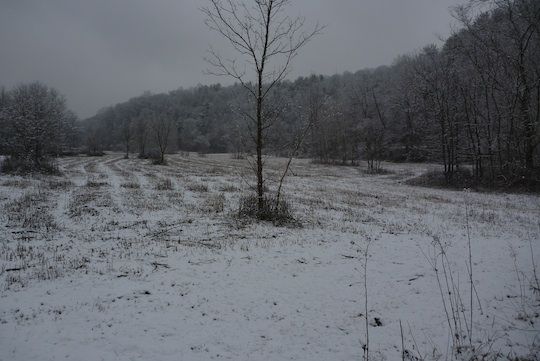 My car rolls to a stop in the gravel parking area, and the snow crunches beneath my feet as I step outside. The small storm I drove through to get here is still in full swing, blanketing Clear Creek Park in a sea of white. The forest has taken on a gentle winter appearance that borders on the saccharine: the river beside me still flows despite the cold weather and the icicles that hang off the rock walls that mark its shores.
Clear Creek is a popular hiking destination during the warmer months, but here in the depths of February I am the only person present. The grey skies and gentle snowfall give off an almost otherworldly sensation: if it weren't for the sound of highway traffic in the distance, I might believe I'm the only man on Earth. It's a remarkably peaceful, if somewhat lonely experience- a far cry from what the robust summer will bring.
Centered on the border between northern Hocking and southern Fairfield Counties, Clear Creek is one of several "Metro Parks", a group of several nature preserves managed by the state of Ohio. According to their official policy, the mission statement of the Metro Parks organization is to "conserve open spaces, while providing places and opportunities that encourage people to discover and experience nature".
Clear Creek is just one of 17 Metro Parks funded by Franklin County, and consists of 5,389 acres- marking it as Ohio's largest nature preserve. It boasts nine different hiking trails, along with pet trails and fishing docks at Lake Ramona. Over 2,200 species of plants and animals have been documented in the area- typical wildlife includes wild turkey, brown trout, coyote, and even the occasional bobcat.
The park may have been lonely during my visit, but it won't be so quiet over the spring and summer season. A host of events are planned for Clear Creek, including a Birding by Ear tutorial, a Family Fun Full Moon Campfire, and an Adventure Hike with Metro Parks director John O'Meara.